Houston Medical Shredding
There are a variety of records that you have to keep track of which can become a stressful task when running a medical office in Houston. There are so many things to consider with your practice's records and you want to make sure that you handle everything appropriately according to what your needs.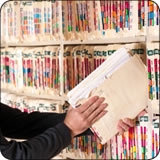 One thing that every office has in common is the need to dispose of old records. If something is not disposed of properly it could cost your office a fine, and possibly even its reputation. The only way to make sure that your documents are destroyed properly is to shred them. That itself can be a daunting task if you have boxes of paperwork that need to be disposed of, but luckily, here at Houston Document Shredding, we can help you with all of your medical shredding needs!
Shredding service providers follow all HIPAA guidelines so that you never have to worry about the safety of your documents. They also have the ability to destroy all x-rays and files that a regular office shredder can't destroy. It is very important to make sure that everything is taken care of properly, which is why shred trucks can shred on site for you. Once the job is done, service providers take all of the shredded paper and recycle it. This way you can see everything being destroyed and you also get a Certificate of Destruction for your records.
Protect Yourself and Your Clients with Reliable Houston, TX Shredding Services Today!
When it comes to your clients and your Houston business, there is no security precaution you should not take. Responsible shredding is the only way to ensure you are in compliance with privacy laws before disposing of private information.
If your practice is getting overrun with paperwork that you don't need anymore, give us a call at (713) 893-8056 or fill out the form to the left for a free quote today!